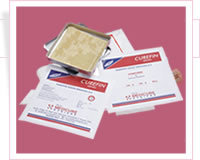 (Paraffin Gauze Dressing)
SPECIFICATIONS
Sterilized by GAMMA radiation
Paraffin acts as a soothing agent.
The antibiotic/antiseptic in it helps in the healing process.
Interlocking gauze yarn threads, minimize when dressing is cut to shape.
Does not stick to the wound and does not disturb the dressing process.

Loss of medicine is minimize at the time of paper removal, due to best quality butter paper.
APPLICATIONS
For Reducing risk of colonization
For wound treatment in all phases of healing.
On open wounds skin burns, and prior to any dressings
For scalds, leg ulcers and on skin graft sites, plastic & cosmetic surgery
SIZE
10 cm x 10 cm x 1 Pc.
10 cm x 30 cm x 1 Pc.
10 cm x 10 cm x 10 Pc.
10 cm x 10 cm x 20 Pc.