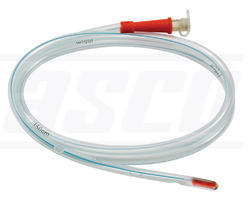 Ryles Tube
Manufactured from non toxic, non irritant PVC.
Specially designed for naso gastric introduction for nutrition and aspiration of intestinal secretion.
Distal end is coned with corrosion resistant stainless steel balls sealed into the tube, to assist the passage of the tubing during intubation.
Four lateral eyes are provided for efficient aspiration and administration.
The tube is marked at 50cm 60 cm & 70cm from the tip for accurate placement.
Super smooth low friction surface facilitates easy intubation.
Provided with X-ray opaque through out the length.
Sterile / Disposable / Individual Packed.